** NEWS UPDATES DO NO CORRESPOND TO PAGE UPDATES! I ONLY MAKE NEWS ANNOUNCEMENTS WHEN THERE IS SOMETHING GOING ON! THE COMIC UPDATES EVERY FRIDAY! CHECK THE FACEBOOK PAGE IF YOU'RE UNSURE OF WHEN I UPDATED LAST!
01-06-2018
You can now donate to
my Ko-fi
to support/tip Bedlam Genesis! I also now have a
Patreon
! Although it isn't exclusively for BG, the $5 tier will allow for previews of the pages still in progress so you can peek at what's to come ahead of time!
10-28-2017
Combing the 3rd and final weeks promoting the the new comics on Spider Forest!

Obscurato
: Retired warrior Dionisia's quiet life as a grandmother is interrupted when an old friend is in need of saving. With her past catching up to her she is about to discover just how magic left her world, and have to decide if it is worth bringing back.

Beneath the Clouds
: Genza, a exiled nobleman-turned-monk, is offered a chance to redeem himself by undertaking a perilous journey to Heian Kyo. Will Genza be prepared to confront his own demons in order to save the life of the man who exiled him, will his daughter Masako make a new life for herself in the city, and does a stranger met on the road offer a chance for a new way forward?

Hex Lovers (NSFW)
: A comedic tale of romance, depression and magic users! Follow the adventures of Blue Wizard & Hex Witch as they survive dungeons, goblins, and long term relationships! Along the way they will encounter both friend, foe and ex-boyfriends.

Bonabyl
: In a world where human fears can take on terrifying physical shapes, a blind boy's intense fear of Darkness becomes a danger not only to himself but everyone around him. Welcome to Bonabyl.

Little Light Asylum
: In a strange orphanage where the little monsters really are little monsters, three friends are constantly getting themselves in supernatural misadventures.

The Magpie (NSFW)
: There is no escape from Pinewood, this is the one thing Amanda knows. At least she thought she knew, until Trixie, the new girl came to town. As the rules she once believed fall apart, Amanda soon faces the truth of her town. She isn't the only one that wants out.
10-13-2017
Second week of the new Spider Forest members!

I, Mummy:
An impulsive teenager turned mummy investigates her own murder with the assistance of a cantankerous ghost. Our story occurs in a future based on predictions from the late 1800s—a future where everyone can fly and there's no such thing as wi-fi.

Folklore:
When a coup for power sends the world's superhuman population into all out war, humanity is pushed to the brink of extinction. In their final hour a weapon designed to strip power from all superhumans is unleashed. On some, it works. Others become something far worse.
09-29-2017
Welcoming the first wave of new members to Spider Forest! Go give their comics a look-see while my updates slow down ;v;

Heart of Keol
: Ethan is a young man with a broken family. After an encounter with a mysterious child, he wakes up in a strange world that looks a lot like ancient Korea—except with magic. Even with all this frenzy happening around him, he can't seem to shake off his family baggage…

Tistow: Small Trolls
: Jáhko and Veeti live out daily adventures in the nearby woods, helping fairies build houses, outwitting monsters, gathering seeds with trolls and helping wisps grow saplings. Under the guidance from Jáhko's grandmother and the woodland spirits, the boys will learn the ways of the shaman and to respect nature.

Children of Eldair
: Koe finds a young woman held by demons, kidnapped from Earth and brought to his world by fairies. Can he help Embera get back home, and will his own world survive the journey?
09-22-2017
I'll be doing a monster girl commission challenge during October! Which means updates will continue to be a little sparse, sorry...
If you're interested in getting your OC drawn as a monster, go ahead and email me though! This is the last week I will be taking slots for them, and there are only a few themes left in the calendar.
[ info here ]

08-03-2017
Summer applications for Spider Forest are now open! If you've got a web comic and would like to be part of the SF community, consider applying! We're taking applications from August 1st - 20th! Apply here!!

05-11-2017
Oops, forgot to update with the rest of the new comics to Spider Forest! But it's good timing since I'll be super busy during the summer for conventions! I'll still try to update every other week, but in case I can't, go ahead and read one of these great additions!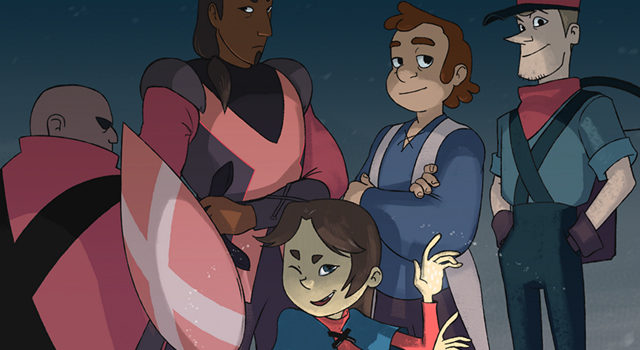 The Dad Brigade - Brandy is a young girl being trained under the protection of a group of highly skilled mercenaries. Among these mercenaries are the assassin, Crucible Jack, the marksman, Jean d'Arblast, and the warlock, Hergin Pride. Dale O'Dawn, a noble knight, tries to keep them in order, to little avail. Together, the men must put aside their differences to raise Brandy into a warrior fit to stop the apocalypse. ( my personal fav )



Dreamrise - The setting is the year 2515, when most of the solar system has already been colonized and terraformed. A motley ensemble cast must work to fight things like Magic Terrorists, Corrupted viruses from alternate timelines, and EMOTIONS.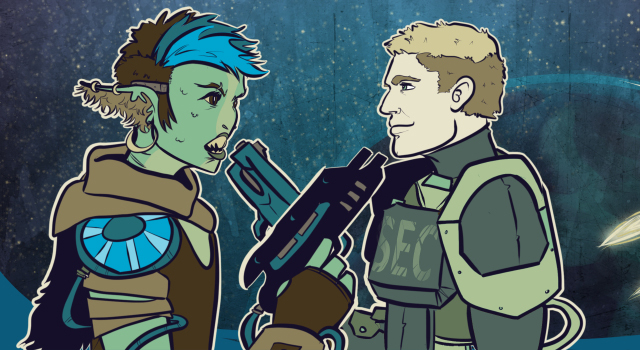 The Empathy Drive - The promised golden age was lost before it began. Humanity reached for the stars, remaking fledgling civilizations in our own image. When the unthinkable happened, we fled - riding a cascading wave of xenophobia back to Earth. These are the stories of those who were left behind.



Of Conquests and Consequences - A teenage aristocrat from the North finds himself a prisoner of war and is assigned as a servant to the young heiress of one of the clans from across the desert. His captor will take him far away from his homeland and further still from his comfort zones. How will he adapt to the new culture?



Realm of Owls - A parliament of owl people have raised a grand city in a lustrous turf. These are the records of two owls who have decided to document the history and antics of their silly people in a whimsical comic strip form. Everything from the ever-shifting sovereignty to ice breaking to pigeon flinging is depicted here!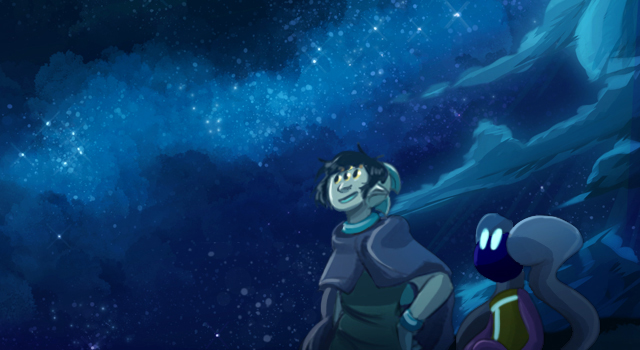 Cosmic Fish - Acantha and her kind are monsters called "ghosts". They aren't part of the "life cycle", where every living soul filters through two planetary guardians. As the different ghosts and monsters change — both emotionally and physically — they attempt find the answers behind the mystery of their existence, and either heal or run from past mistakes.



Fine Sometimes Rain - A slice of life about love, friendship, and overcoming depression.



Evil Witch Allie - Jake found a little girl claiming to be a witch wandering alone outside his house on Halloween. It would have been nice if that turned out to be the weirdest part of his night.



Paisley Brickstone - Being the new kid is never easy, but life gets even harder for Harvey Mammaroth when gym class takes a wild turn and he and his classmates find themselves trapped in an empty school. Is the whole thing just a vague assignment set up by their sadistic gym teacher, Coach Trener? Or is something much darker going on?



October 20 - After a decade of fighting the curse that has befallen them, Catherine and Raimundo have their backs to the wall. The last of their allies have been claimed by the monster that comes for them every year on October the 20th. Can they survive the day? Can they find a way to go on, even if they lose everything? And can they find the man called Shields McKloskey, who seems to hold all the answers?

03-31-2017
Welcoming the first round of new comics to Spider Forest! Give 'em a read while you wait for me to update, lmao.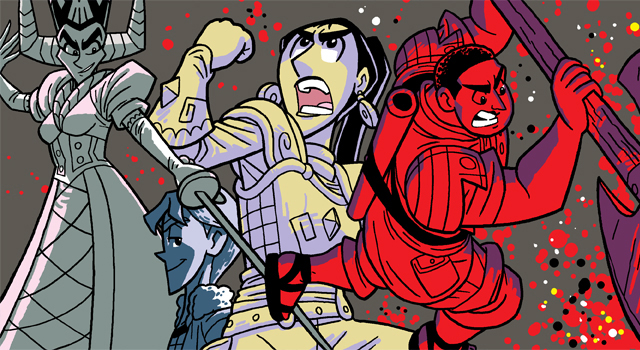 Monster Lands - A fantasy/dramedy story that focuses on the axe-wielding, monster-riding adventurer Othera as she battles against the tyranny of the evil queen Eren Lorry!



HELM - Embark on a journey across the dark and dangerous world of HELM in search of the legendary Bastard King.



Saffron and Sage - Saffron and Sage is a comedy/action comic about a group of adventurers trying to rescue a kidnapped Prince while learning valuable life lessons.



Sell Spell - When Sedo, an illegal spell-for-hire, is tasked with "retrieving" a mysterious artifact, he cons a gullible Mage's apprentice and his motley crew of bodyguards into helping him. However, as simple treasure hunt turns into treacherous cross-country journey, Sedo gets the sinking feeling he is being hunted… and more importantly, underpaid.

01-27-2017
Spider Forest will be opening applications again soon! If you've got a web comic and would like to be part of the SF community, consider applying! We're taking applications from February 1st - 18th! Apply here!!

03-12-2016
I'm going to be selling for the first time at a con!
It'll be at Fanime, in May. Until then, updates will be sporadic while I create prints and merch to sell. Bedlam merch will be coming soon too though! I'll also be spending the semi-hiatus working on the script for chapter 3.
The archive is finally working as it should be by the way!!

08-07-2015
Do you have a webcomic? Would you like to also be part of the Spider Forest family?? We're taking applications from now until August 22nd! If interested, go ahead and apply!!

08-08-2014
We've got a bunch of new comics in the Spider Forest family! You should totally go check them out! *v*

Star Cross'd Destiny
Star Cross'd Destiny is focused around five misfit young adults in New Orleans who are cursed/blessed with supernatural powers. The controller of Air, Juno, is a smartass alcoholic with anger issues who has a rap sheet ten miles long, is wanted by the police and the Cajun mafia, and can't seem to keep her nose out of trouble.

Terra
Terra follows a group of characters who band together to stop a devastating interplanetary war.

Soul to Call
The Fall devastated earth, leaving the ruins infested by abominations and the occult. Surrounded by danger and insanity, there's only two things on a young courier's mind: family, and survival.

Moonslayer
When Syrma discovers that she is the victim of a curse that will end her life, she intends to change her fate. For this she must destroy the goddess who condemned her -- and time is running out.

Zukahnaut
After years of hiding on Earth a lonely alien finally reveals himself. Can Zukah fight his own nature to redeem a wasted life?

Ianua
A young man named Janus lies at the center of web of fate that connects them all. His encounter with a unbound demon will bring about a series of trials, dangers and magic that has not been seen in centuries.

From the Machine
A runaway supersoldier and a lady bard go on adventures with a snarky pilot; a weird guy who talks to trees finds a lost kid on a battlefield and ends up taking care of him. On their journeys they encounter assassins, toxic forests, draconic airships, and a search for a mythical land.

Altar Girl
Ashley Altars has a major crush on Adam Evenine, one of the most popular boys in school. She also unwittingly holds one of the two keys to Heaven and Earth! The owner of the other key is a guy named Seth Charming, who has been dead since the late 1920s, but has been brought back to life by the heavenly "Gemini Twins" Sera & Cherry. Life is tough for the Altar Girl.

09-20-2013
The archives are going to be a little wonky for a while; I'm trying to get the coding to organize it correctly. Thanks for your patience!

09-06-2013
Spider Forest has accepted my comic into their community, I'M SO HAPPY!! It was my second attempt to join. The first time was about a year ago, and my story wasn't very clear yet so I wasn't too surprised when I was declined... But it's great to know now it's intriguing enough, despite it still being pretty vague, ahaha... ;A;
So you'll notice the new banners hanging over the top of the site, and also a drop-down menu of their other web comics to the right. If you hover over the text, I promise you'll be able to read it. 8D;;

08-01-2013
I've just joined Tapastic you guys! Hopefully meaning I can pull in more readers. Especially since I'm so close to finishing this volume, and next one will be in color! It's a pretty cool site to help keep track of multiple web comics too you know, so you should sign up ( and you can follow me on it too! ) Mo-views-mo-moneh.

10-12-2012
I've created an ask blog on tumblr! So, if you have a question for any of the characters, feel free to hop on over and ask away. You just may get a response!

08-30-2012
The comment box now works! But things never quite go as planned, so there is a glitch. If you want to comment on the most recent page, you do need to click the link to take you to it. Otherwise, your comments will be submitted to the home page. oAo;;
I wish I knew how to fix this, but for now I think it'll do.

08-06-2012
Hurray for the new layout! I'm sure there are still some bugs here and there, but I hope it runs smoothly enough. It feels great to be back on track! This section will now be used to update you guys on anything that might be worth mentioning going on in my life that could affect the comic. Otherwise, feel free to use the new comment box and let me know what you think of each week's page! Hopefully THAT works correctly, haha. The archive page is so far the only thing I haven't been able to fix on my own...